A personalized welcome...
The Florence Hotel knows how to adapt to the specific needs of its guests. For your professional or leisure needs, we provide you with special facilities and specific equipment.
Seminars & business meetings
Thanks to the quality of its services (copious breakfast, lunch, lunch pack, massage table, dry cleaning, ironing, newspapers…), the hotel Le Florence is renowned for satisfying business, sports or artistic clients who travel through the Hauts-de-France.
For yours meetings and seminars, the hotel provides 3 meeting rooms, including one with 25 seats, configured and equipped for professional use and easily accessible (free private parking and public parking), to accommodate any form of professional event (business meeting, debriefing, seminar, interview, recruitment …)
You have the possibility of benefiting from a preferential rate with the "Soirée Étape" and access to a copious continental breakfast service served at dawn, as early as 4 a.m., in the bright dining room. For lunches, we offer a complete fast food service, from appetizer to dessert, and we have also established a partnership with a restaurant near the hotel.
For all these services, we have a reputation for good value.
The reservation of a room is done by the day or by the half-day (consult us for the rates and the availabilities).
We advise you to book your room directly through our switchboard in order to benefit from advantageous rates and the Contact Hotel loyalty card.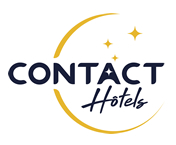 For sportsmen,
artists...
The Hotel Le Florence makes its meeting rooms available to visiting athletes and artists for debriefings and rehearsals.
A massage table is at your disposal for preparation, relaxation and rest.
Quiet times" can be set aside during the day for rest and concentration.
The "Breakfast" buffet is available over a wide range of hours and can be adapted to your schedule.
The kitchen service adapts and specific menus can be prepared. We make Lunch Packs to go.
Leave us your phone number, we will call you back...