We advise you to book your room directly through our switchboard in order to benefit from advantageous rates and the Contact Hotel loyalty card.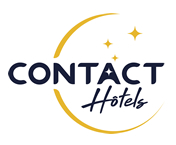 In accordance with the Data-processing law and Freedoms on January 6, 1978, you have a right of access, of correction, modification and suppression of the data which concern you. You can exercise this right by sending us an e-mail or a letter
In order to get the best rate...

Leave us your phone number, we will call you back!